by Cindy Melenric | December 9, 2015
On Thanksgiving Day of 1986, I was walking through a cemetery by my grandparents' home when I saw a cross in the center of the field. Jesus was hanging on the cross, and as I stared at this portrayal of Him, tears flowed and questions formed. "Why is the Christian walk like this?" I was planning to take my life the following Monday, at 19 years old.
I had prayed a simple salvation prayer a year earlier, but was persecuted by friends and family then overcome by depression. I had sought truth, and failed. As I sat at His feet, something within me cried out in despair for God to save me, and all I could do was weep uncontrollably: "Lord, if you want me to live, send someone to help me! I want to meet someone who walks the walk and practices what they preach." After calming down, I heard the Lord speak: "I will answer your prayer. I will need more time." I knew what He was asking. He wanted me to yield my plan of committing suicide over to Him. I agreed to wait until after Christmas.
At church that Sunday I saw an announcement in the bulletin for a drama team performance Doug Stringer was hosting at a sister church on December 10. I had heard of Doug on the radio and at my youth group. The Lord immediately impressed on me to attend that service. It was 10 days away, and those 10 days of waiting seemed like a nightmare. But when the day finally arrived, I declared to the Lord,
If this is not the answer, I'm not waiting anymore.
The service included the most unexpected portrayal of the Lord ever displayed. A complete layout of the life of Christ and the battle for my soul was presented, and for the first time I understood what I was up against. Christianity had an enemy who would do everything in his power to destroy; I was almost another victim of his game.
God grabbed hold of my heart and did not let go. Doug noticed the encounter and called me up on stage with him to reinforce the experience. I walked away with a new birth, a regenerated soul, and a fresh vision for my life. Everyone I encountered after that saw the change—my family, my youth group, my friends. I was willing to accept the challenge to live life to the fullest.
God held me to those words as life moved on. But when I entered my first serious relationship, I walked out on Turning Point. Within a few months, I encountered verbal and physical abuse that left me wounded inside and out. Three years to the day, on December 10, 1989, my soul cried out for my life once again.
But this time God said: "Do you remember the prayer you prayed in 1986 for your life? What was My answer?" I knew I was guilty of walking away from the very ministry where God planted me to save my life in the first place. Turning Point represented a vow I made to be faithful to His calling, and it represented an exchange: my life for His.
Little did I know how many times this faithfulness would be tested. Honestly, I failed those
tests more than I can count. But Doug remained faithful. He was always there to come back to, and he was always reaching out to help those in need. In 2004, I returned once more to complete a life-time of training, sitting under his ministry and learning the deep secrets of keeping the faith and allowing the Holy Spirit to use me and direct me as He sees fit.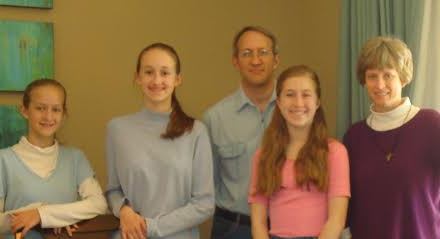 At Doug's "Leadership Awakening" conference in March of 2013, the seed of promotion to leadership was placed. By December, I was promoted to Children's Church Director for Fellowship at Well of Life. In March of 2015, I was promoted again to Deacon and my husband to Elder. We participate and serve for our church outreach called "Freedom and Healing Seminars," where a deep teaching is offered to those desiring a closer relationship with the Lord.
I am so honored to call Doug my spiritual father and Turning Point Ministries my spiritual
family. God continues to use this ministry to teach me of His ways and that I am a special
daughter to the King. Doug and Lisa have been a huge inspiration to me and play a big role in my life as leaders.
I would not be here today if it wasn't for one man being obedient to God. I will never forget what Turning Point has done for me.
CINDY IS PICTURE ABOVE WITH HUSBAND TOM AND DAUGHTERS BEKAH, HANNAH, AND SARAH.