June 16
by Lisa Stringer  |  June 16, 2015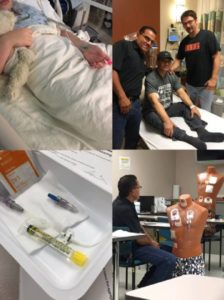 Yesterday we arrived in Houston quite tired, as we had only slept for a few hours, prior to catching an early flight from Washington, D.C. We were able to make it to our appointment at MDA on time for a PICC line to be placed in Doug's arm; this is where he will receive his chemo treatment. It is supposed to be a permanent fixture over the next few months. Prior to inserting the line, we were asked to watch a video which included information on the risks that could take place. I was sitting on the gurney behind Doug, when tears began to stream down my face. I wiped them as quickly as I could and tried to be as still as I could so that he nor Ashley would notice.
After a quick "so long," Ashley and I waited in the garden where I poured my heart out to God. We then went home to prepare for the possibility of a tropical storm, locking down anything that could fly and do damage to our home or a neighbor's.
Needless to say, it was another long night. After a few hours sleep, it was time to arise and take Ashley to the hospital for an outpatient procedure she needed. We left home by 5:30am; Pastor Rick Torrison picked up Doug at 6:15am to take him to begin a full day of chemo and more at MDA.
My heart was feeling a bit overwhelmed. I had my daughter undergoing a procedure that would have her under anesthesia for about an hour, and my husband starting chemo just a few blocks away. I am beyond grateful that Susie Wolf surprised me and spent the day listening to me, praying with me, and reminding me of Who is in control. After Ashley was released, we all decided to go support Douglas.
I sat in a meeting with one of Doug's physicians and was once again told about risks with certain medications. I was pulled aside this morning and told the same with Ashley before they began. As with anything, the hospital staff are required to share all the side effects and worst case scenarios. I have to admit, though, I didn't want to hear any more about what could go wrong. I was super sensitive and tired, and this made me all the more emotional. Matthew 6:34 says, "Therefore do not worry about tomorrow, for tomorrow will worry about itself. Each day has enough trouble of its own." Thanks Susie for reminding me 🙂
It is now almost 6pm, and we will more than likely be here until at least 10pm; truly a very long and trying day. Before the chemo was administered, we gathered around Doug and the medications and prayed.
Thanks to Mary, Debi, and others who have shared their experiences and have given us ideas on how to keep positive through it all. Thanks Rick, Ruben, and Susie for loving us today in ways we could never repay. Thanks to all who have sent texts, emails, and more.
Like in posts past, Doug and I recognize that there are many more who are suffering greater challenges. All around us are people who are weak, sick, and in need. Injustice for many is taking place all over the world. But God is more than able.