by Lisa Stringer  |  August 4, 2015
Today was not different than other typical days in the Stringer home; it seems like not much slows Douglas down, including meds such as chemo, which are supposed to slow you down significantly. Doug is proof that prayer changes things. Your prayers have availed much, and Doug has been able to keep a full schedule on most days. This is not to say he is not drained at the end of the day; but generally in good spirits.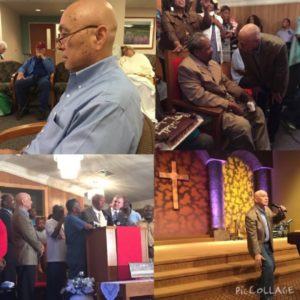 This morning we started out with a trip to MDA to have his PICC line cap changed, flushed, and dressing replaced. While we were there, three other families we knew of were also in the building; two for surgeries and one for a treatment plan and more. Our intention was to go and pray with each one in person. I was able to sit with one for a bit while Doug was being cared for. He was hoping to see all of them; knowing our time limitations, he grabbed my hand and began to pray for all three families in the waiting area of infusion therapy. He asked that I begin to make my rounds as he had an unknown wait time before being called back himself.
We left MDA with a limited time to arrive and stand with Bishop Kossie and other 5th Ward church leaders targeted by the city of Houston during a press conference earlier this afternoon (Tuesday, August 4). The Liberty Institute is representing and defending the churches' rights. Doug is asking us to join him in prayer and supporting our friend Bishop Roy Kossie and the Latter Day Revival Church, as well as other churches in the 5th Ward of Houston. They are being pressured to give up some of their church properties under threat of eminent domain. What an honor it is to stand with these living legends who have been faithful to their community and The Lord as they fight for the right to keep their churches in their present location.
Next stop, Grace Community Church in The Woodlands. Doug began a series of pertinent and timely messages for the days in which we live. Doug will be the guest speaker each Tuesday evening in August, at 7pm, for their normal midweek prayer services. If you are available, feel free to join us.
Today, on social media, he posted the following:
"We need to be a people of Biblical Principles, so we can build on the incorruptible seeds of righteousness. Invest first in the Enduring Word for the Word of the Lord endures forever. Take a moment and read 1 Peter 1:22-25."
And…
"Political Party and Personal Preferences will not outlast the Incorruptible seed and Enduring Word of the Lord that endures forever. Invest wisely. Build upon a Biblical Ideology and invest in the Characteristics of the Kingdom of God."
Douglas is just as passionate as ever to see people know and to grow deeper in The Lord. He inspires and motivates me, and somehow seems to have more energy than me, go figure!. May God bless you all with an amazing remainder of the week and may His joy fill your home. As He leads, would you please pray for the Duarte and Rex families as well as Elena. May they each encounter God's provision for everything every step of the way.