by Lisa Stringer  |  August 18, 2015
We met with our Dr. at MDA today to receive the results of the last PET Scan and blood work which was taken yesterday. The scan was done exactly half way through the treatment. About a week ago, Ashley had a dream that Daddy was healed and had a full head of hair again, something I am looking forward too. I realize many say he looks good bald, but I'm the wife and what can I say, I loved his hair. I also received a call from Susie Wolf who dreamt that Doug was writing a thank you letter to everyone for all the love and prayers shown to us as we walked through the cancer diagnosis. In the letter, Doug was sharing the news that God was bigger than the cancer that attacked his body.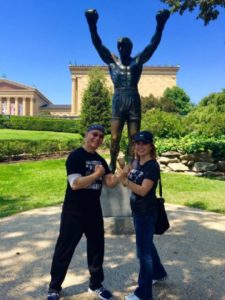 Today with a grateful heart we share GREAT news! The scan taken after three chemo treatments showed NO EVIDENCE OF CANCER! We were told that we must complete the chemo as there could still be a minimal amount of cancer cells in the body that could not be detected by the test, and we needed to insure that they were all dead and gone.
We rejoice over what only The Lord could have done; He has proven that He is BIGGER than any diagnosis and any weapon formed against His children. We are without words, and full of tears of joy and emotions that cannot be described accurately. TO GOD BE THE GLORY!!!!! JESUS, YOU DID IT!!!!
Through it all, we kept Hebrews 12:2 in mind; we did not lose our vision of hope, we kept our eyes on the Author and Finisher of our faith. We could not have received such an amazing report without your prayers, constant love and support, which kept us encouraged.
Please know that we are overwhelmed with joy but the battle is not over. Tomorrow, Wednesday, August 19th, we return for round four of chemo. Please continue to hold us up in your prayers as we complete this medical protocol which concludes at the end of September.
Because Doug never received this diagnosis as his personally, but as a prophetic drama of the spiritual dynamic of our nation; after tears of joy, he reminded me that this is not a time to let our guard down or to let up on the intercession and prayer for our nation. Even for us, though the PET scan showed no evidence of disease, this is not a time to let up. We feel this is symbolic, so let us press forward in prayer and intercession for our nation.
May The Lord bless you all in ways in ways only He can. WE LOVE YOU ALL AND ARE GRATEFUL FOR YOU.
-Lisa