by Lisa Stringer  |  September 30, 2015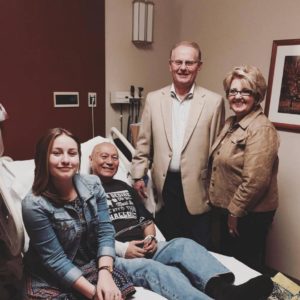 Last night, Pastor Steve and Becky led us in communion prior to starting our last chemo treatment. They have been a great example of persevering through trials and adversities. May God bless them for all they have done to sow in to the lives of so many.
Twelve hours after we started our day at MDA, we ended it at Grace Community Church north campus, where Doug shared. Pastor Steve asked Ashley if she would sing a song she had just taught herself to play the night before. The worship team at Grace began to minister immediately after, and Pastors Steve and Becky, along with Doug, led us in powerful times of prayer. It was a special time in corporate worship with friends and family in The Lord.
Here is a verse from the song Ashley played:
I could throw my fist in the air demanding answers
But in spite of all the questions
I'm still giving You my life
And if it doesn't turn out like I think it should
It doesn't change the fact You're always good
Your ways are higher than mine
May we keep our eyes on the risen Son and allow Him to be our Comfort in the midst of our storms.
I pray you feel the Father's embrace today. Thank you for your love and prayers, we could not have made it this far without them.